Hello everyone,
My colleague Paulo Baleeiro in Brazil, who is currently studying the U.amethystina-tricolor-tridentata complex for his PhD, has just returned from a trip to N Brazil where he found several cool CPs. For me, the most interesting of all was U.viscosa, a species published in 1986 and which I was never lucky enough to find in the wild.
Although somewhat-widespread in Central and northern S.America, U.viscosa was only known from herbarium specimens. No pics of live plants were available on the internet.
Peter Taylor describes this species as a perennial, but I personally suspect it is annual, judging from the habitat. U.viscosa is an aquatic plant with scapes 6-50cm in length. Peter Taylor placed it in its own monotypic section, Sprucea, as you can see below: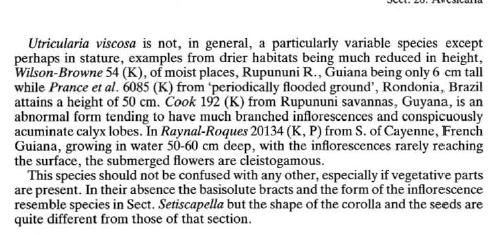 So the bad news is that Paulo's pics of U.viscosa unfortunately were out of focus.
But the good news is that he realized that pics taken by our friend Patrice in French Guiana (and previously mistaken for U.amethystina) were in fact of U.viscosa!
Take a look at Patrice's pics on his blog:
http://guyane-l.over...a_-8352578.html
More pics soon, hopefully!
Best Wishes,
Fernando Rivadavia