Here are some seedlings from S. purpurea ssp. venosa that is supposedly from their southern most coastal plain range in Georgia. What's peculiar about these seedlings is their very close resemblance to S. montana-notice how the hood is recurved in some of the individuals. Could this be an intermediate between venosa and var. montana?
Quite frankly, who knows, but once they get bigger, we'll probably be able to get a better guess at what's going on. Unfortunately, these plants aren't very fast growing...in fact, they're painfully slow to grow, but I still have very high hopes for them!
I bet these are going to look amazing when they grow up-just look at the greenish-yellow background colors, and red veins. Photos taken fall of 2011:
Another shot of the same seedlings:
And here they are, less than a year later from the pics above. Photos below were taken July 7, 2012. They struggled in the beginning of the year, but are growing very fast and gaining momentum now that they're established. They definitely look a bit different from the north and south carolina venosas-maybe the shape is a bit peculiar and unique. Check out how some of them are doing the whole "montana" thing with the hood: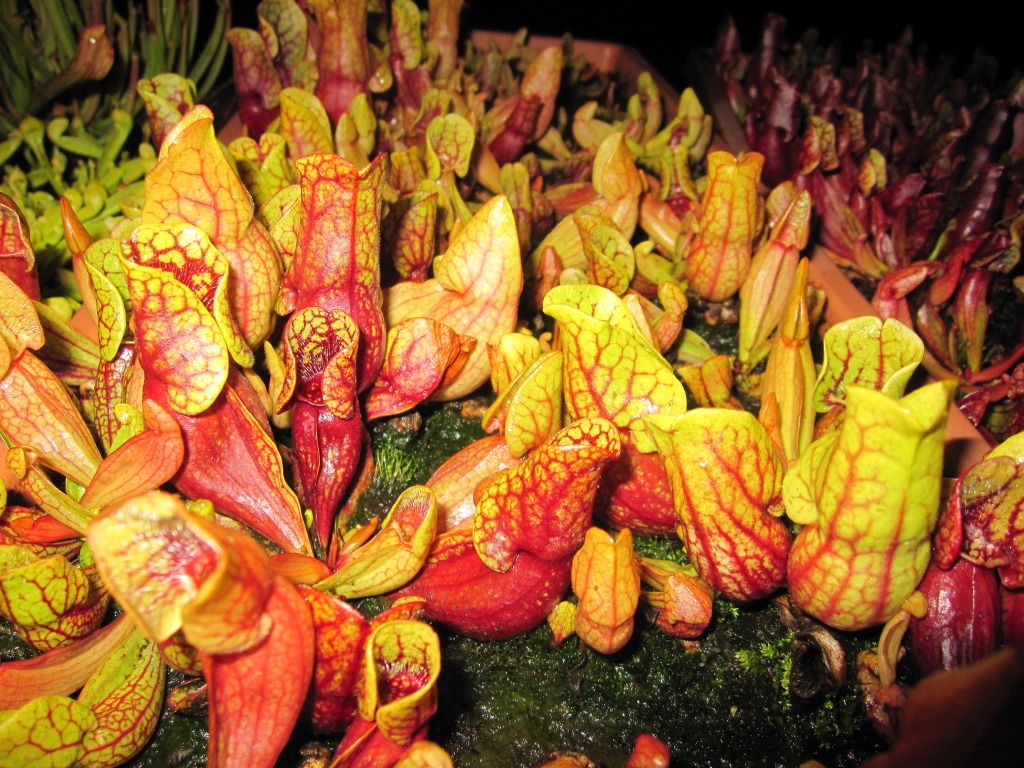 Just to digress a bit, to the left front of the photo is S. purpurea ssp. purupurea from Caroline Co, VA, and behind that are Antho-free S. psittacinas. Georgia venosas are in the middle, and purpurea ssp. purpurea from the lake district of Muskoka, ON on the right:
Edited by meizwang, 10 July 2012 - 02:58 AM.