Meanwhile the CPN December issue has been released, so the time has come to post some information (provided in our CPN-article on Byblis) also to this forum. In late autumn 2010 Irmgard and I could successfully cross-pollinate the flowers of Byblis 'Goliath' (branching B. filifolia) with pollen of Byblis 'David' (non-branching B. liniflora). In spring 2011 we realized the clearly intermediate appearance (size and details, see photos) of five hybrid plants. This was especially interesting, because the flowers of the self-sterile B. filifolia release pollen only through vibration (buzz-pollination) whilst the small B. liniflora is fertile by self-pollination.

The trans-species F1-hybrid is looking like an airy B. filifolia 'Goliath' on a first glance, also developing branches, but the flowers are self-pollinating and fertile like the male ancestor B. liniflora. In August 2011 we repeated the experiment and pollinated flowers of Byblis 'Goliath' again with pollen of Byblis 'David', and again developed a healthy seed pod which released seeds after 20 days. Meanwhile also the F2-generation, grown from seeds of the F1-hybrid started flowering in our greenhouse and we will soon report more about them.

Photos of the F1-hybrid: Fig. 1 = dried herbar specimen on DIN A4 (210 mm × 297 mm) size paper. Fig. 2 = plant details.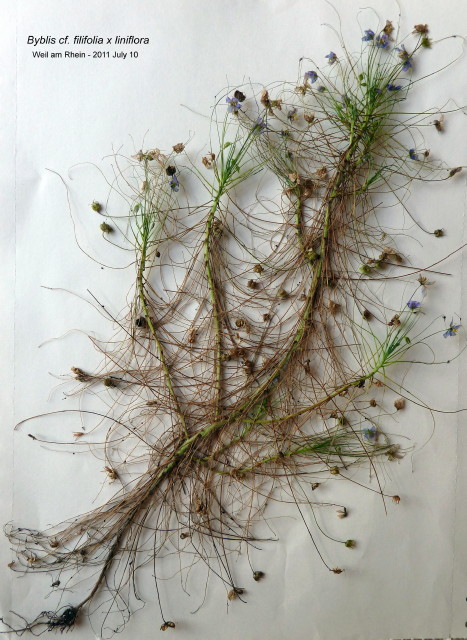 We thank Brian Barnes for the trustful provision of Byblis 'Goliath' seeds (P-Generation) and personal communication such as his observations on pulvini in the genus, which enabled our time-lapse documentation on video as well as the experiments which finally led to the appearance of the supposed hybrid. And we thank Dr. Jan Schlauer for checking the results of our experiment and for his scientific expert advise.

To make our CPN-article also available for readers who are not ICPS-members, we published it now also on our website:
CPN Byblis-article


The story of pulvini and hybridization in Byblis is also part of our new movie "Sarracenia - Endangered Gems". That excerpt has now also been uploaded to YouTube: