Five new species of Genlisea have just been published in the latest issue of the botanical journal Phytotaxa.
All of them belong to the subgenus Tayloria, i.e. the Brazilian species with seed capsules that open as two valves, and which have a spur that is spreading from the flower tube. This subgenus thus far did contain three species, namely G. violacea, G. lobata and the large G. uncinata.
However in the past few years (or even decades ;)) Fernando Rivadavia discovered several new species, which were now altogether described in a complete revision of the subgenus:
"A revision of Genlisea subgenus Tayloria" by Fernando Rivadavia, Paulo Gonella, Günther Heubl, and myself, in Phytotaxa 33, pages 1-40 (published 28 November 2011).
The whole article (40 pages, with identification key, line drawings of all eight species, distribution maps, flower photographs and SEM images of the seeds of all species) can be sent to anyone interested on request – just send me an e-mail (not a PM, as I will probably not read it too soon).
Probably the most widespread of the new species in cultivation is G. flexuosa, a perennial species of close affinity to the annual G. violacea. It is very easy in cultivation, and is known under the name G. violacea 'Giant' or G. 'giant rosette'. I would even say that most "G. violacea" in cultivation (especially if they grow like a weed, are perennial and form carpets of leaves propagating by little plantlets that are budding from the trap leaves) are in fact G. flexuosa.
The artificially created hybrid "G. lobata x violacea" sold by Kamil Pasek (bestcarnivorousplants) actually is a hybrid of G. lobata and G. flexuosa (and not G. violacea).
The name of that new species refers to the long, flexuous scapes of this species, which have pedicles that reflex in fruit, and will twine around nearby herbs and grasses for support.
G. flexuosa at the type location.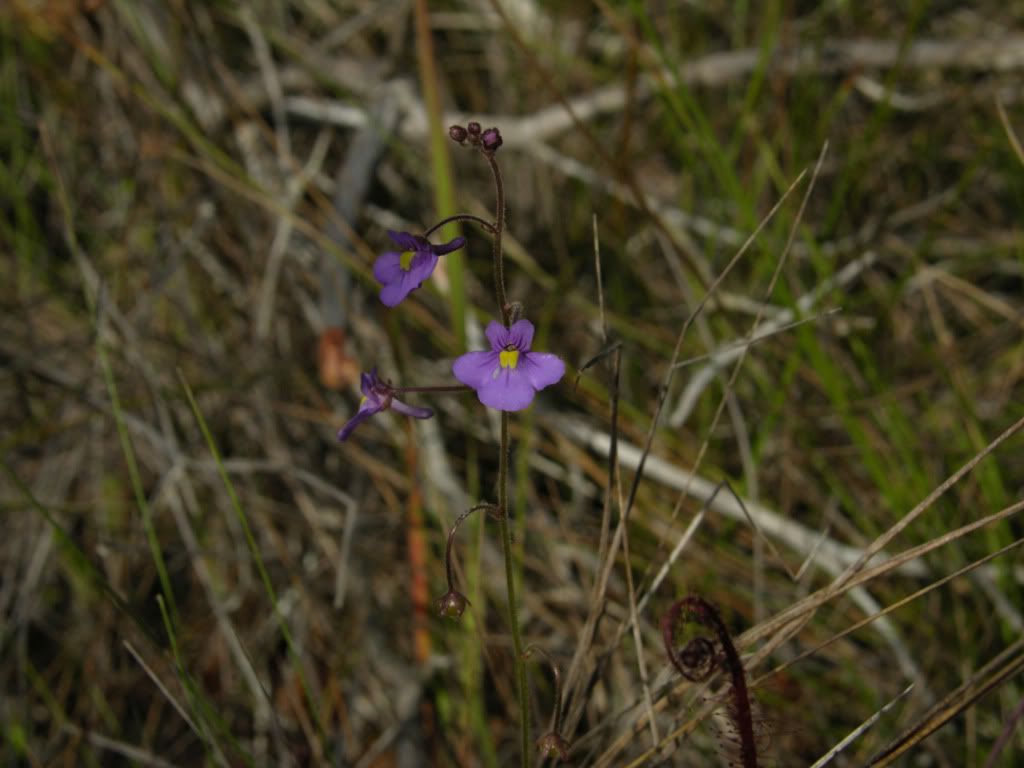 This species grows in swampy areas, usually between tall grasses, often accompanied by other CPs such as Drosera graminifolia, D. grantsaui, D. x fontinalis, D. tomentosa, D. communis, Genlisea repens, G. aurea, and various Utricularia species. A CP paradise!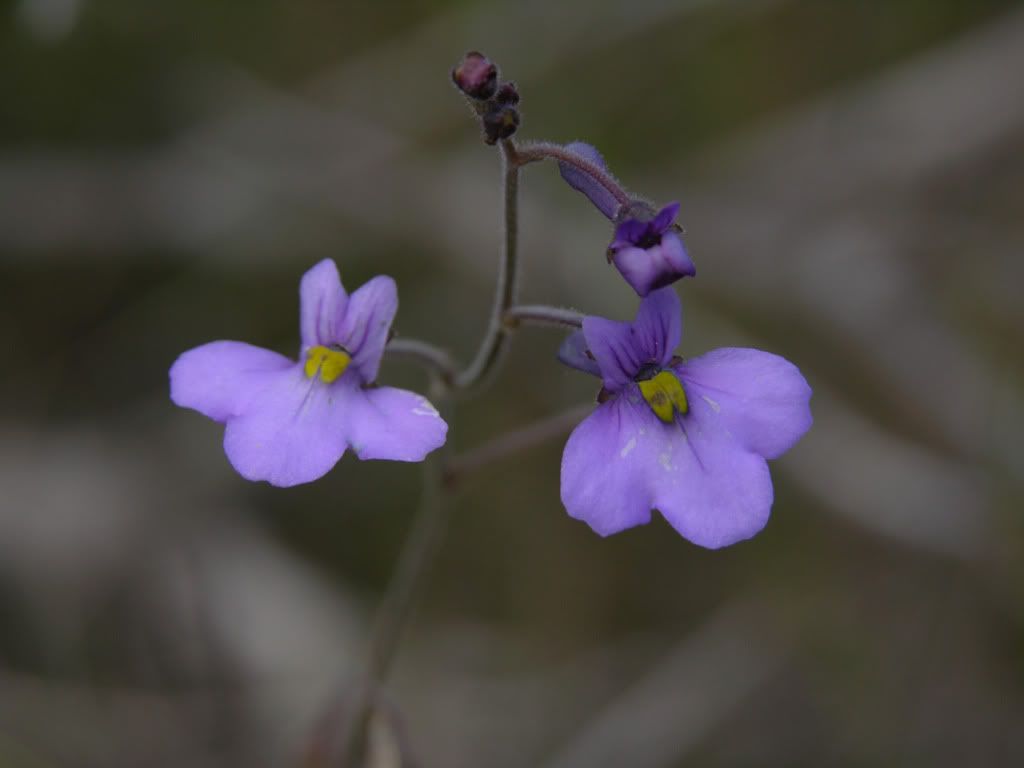 The flowers with the relatively large lower lip and the comparatively small upper lip, and the long spur are familiar to many CPers, who have been growing this plant for a long time as "G. violacea 'giant'". The most easy to grow species of the whole subgenus in my opinion....
Another of the news species that also is in cultivation already (at least in Europe): Genlisea metallica, also known as G. sp. Itacambira Beauty. This is also a perennial species, with beautiful dark lilac flowers, that have a metallic shine in full sun (hence it's name, which does not result from the authors' non-existing enthusiasm for the rock band, but from the flower's light reflections ;)). However some of my colleagues at least told me that this Genlisea species rocks! ;)
G. metallica is probably the most glandular of the South American Genlisea species, and its scapes are even sticky when fully dried. It has a compact rosette of densely arranged leaves, which will however usually die back after flowering, and the plant survives a short dormancy at it's natural location by a thickened underground stem. This species is very rare in the wild, and so far only know from two single populations.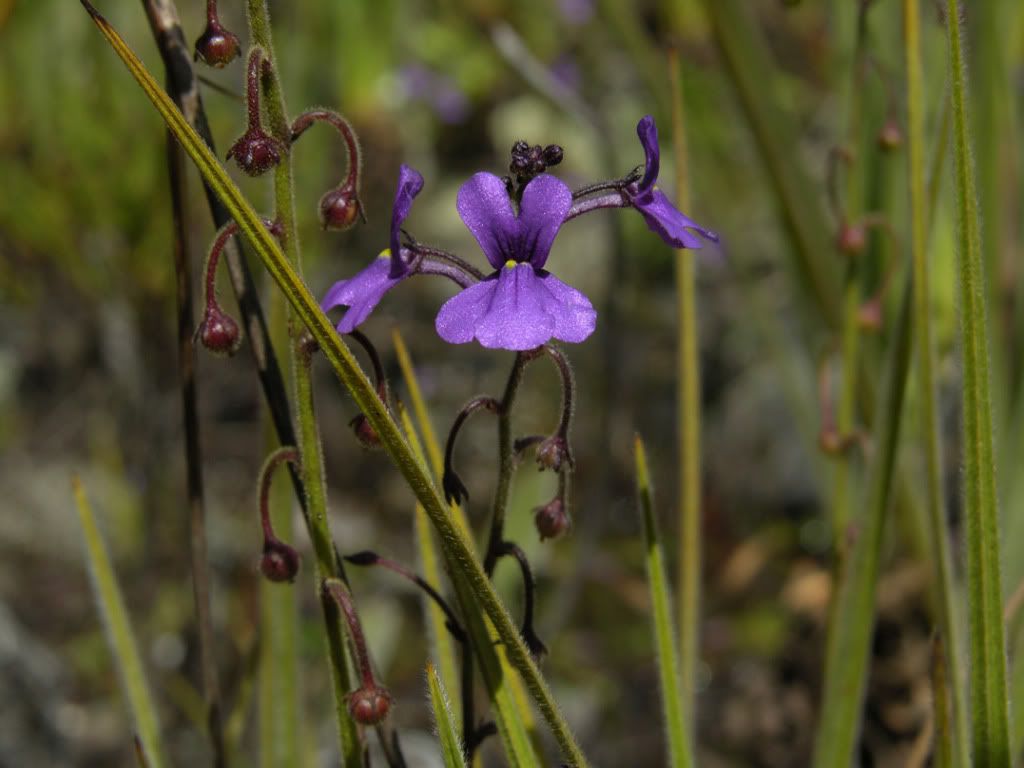 G. metallica at the type location
G. metallica has flowers with a metallic shine, and large upper corolla lobes which are widely spreading.
The large G. oligophylla is also a perennial species, which was thus far known as G. spec. 'Cipo'. It is closely related to G. uncinata, and also has very thick, succulent tall scapes and only very few leaves during flowering time (the species' name "oligophylla" means "with few leaves").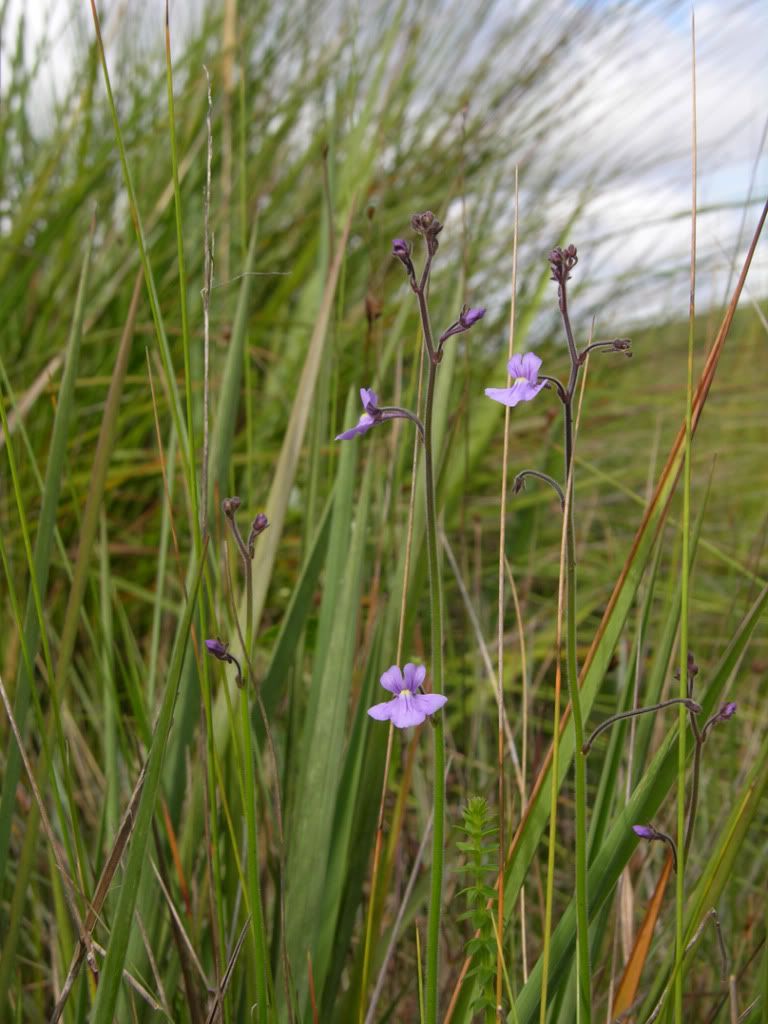 This species prefers to grow in more well-drained places, in sandy soil which are not soaking wet but only slightly moist in the dry season. It is usually found among tall grasses, and the flowers are borne on very long and succulent thick scapes.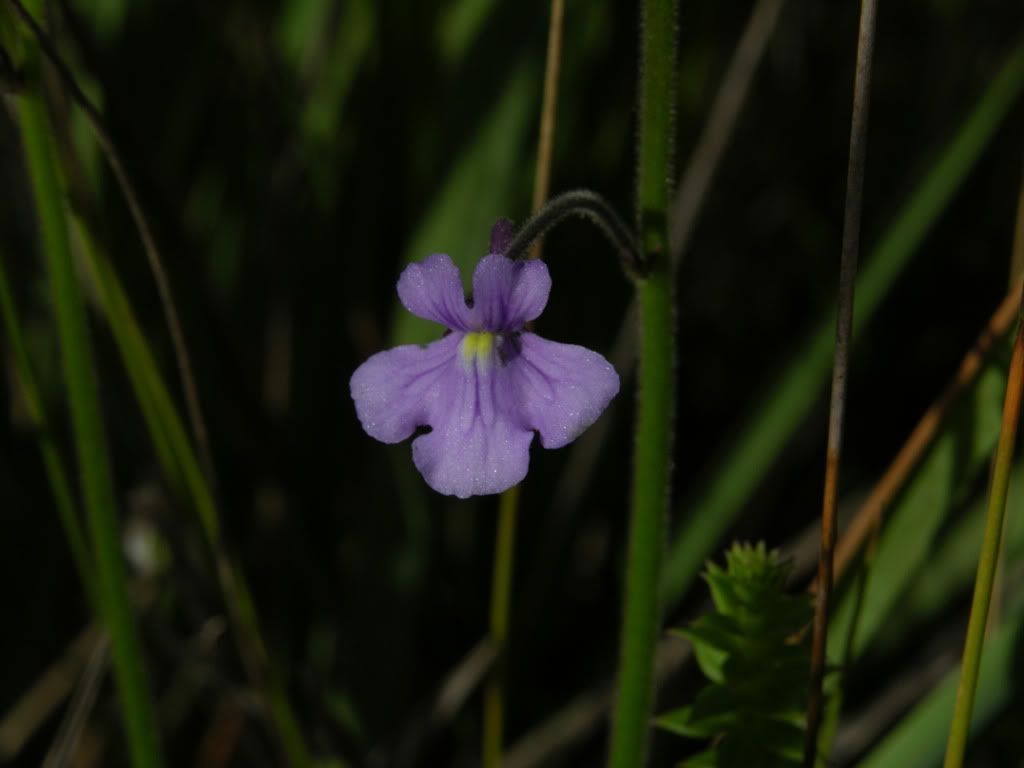 In contrast to the related G. uncinata, the corolla of G. oligophylla is veined, and the spur is never curved hook-like at its tip.
The remaining two species are annuals like G. violacea and G. lobata (in the wild, but probably facultative perennials like all species of subgenus Tayloria in cultivation).
One species from the state of Bahia was discovered by Fernando Rivadavia near the Fumaça waterfall, and thus had the preliminary name G. sp. 'Fumaça' thus far. This species was named Genlisea exhibitionista, which refers to Fernando's sense of choosing strange names in general, but in particular to the flower morphology of this species: unlike most other Genlisea species, the corolla tube of this species is not fully closed (like in typical "snap-dragon" type flowers), but has an open throat – like eg. most Pinguicula species have. Thus the stamens of this species show off, and are not hidden by the corolla palate, therefore the name ;)
This species most likely has adapted to a different pollinating insect, as it does not only have an open corolla throat, but also a short and thick spur, thus the pollinator most likely is a short-tongued insect (whereas the other Tayloria species are likely to be pollinated by insects with a long proboscis, like bombylid flies or butterflies and moths).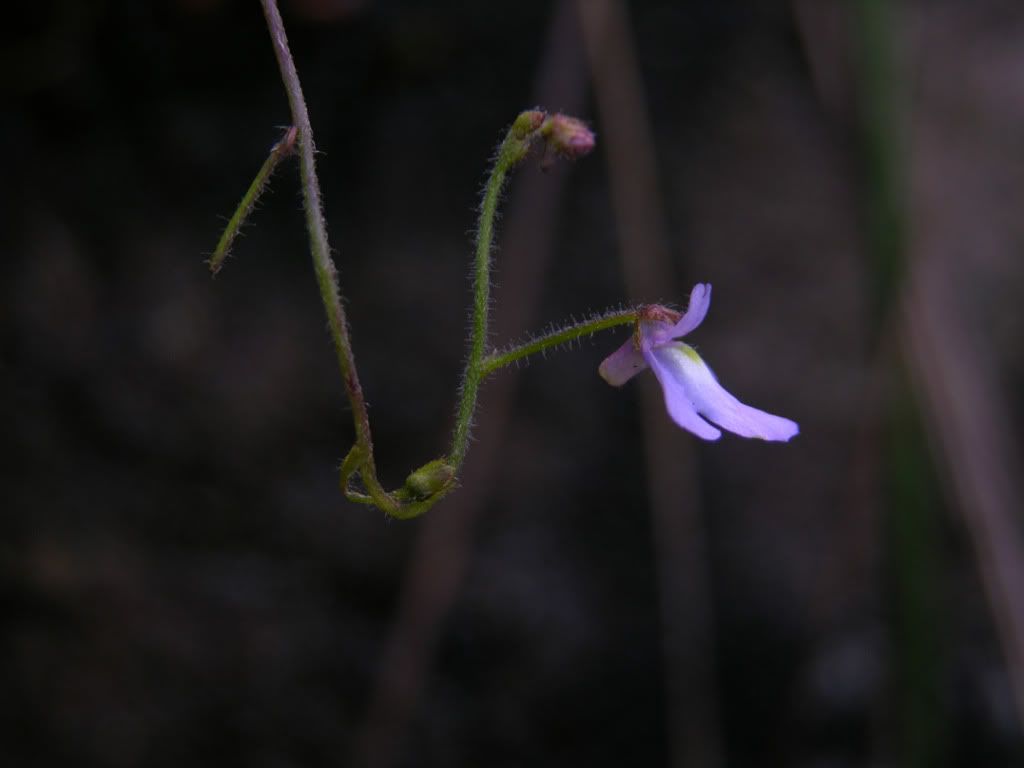 The short spur, open corolla throat and hairy scape of G. exhibitionista.
The remaining species is also a very rare one, and was yet only observed at two little locations. At one of them, this species grows in the spray of a large waterfall, and thus get permanently fogged by the spray. Therefore we named it Genlisea nebulicola – "growing in the spray". This species has been referred to by Fernando by the informal name "G. mini-violacea", which fit well, as this is the tiniest member of the subgenus. In all other respects, it resembles more a G. lobata however. It has delicate little flowers on thin scapes, which are almost glabrous – in contrast to all other species of the subgenus. The rosettes of leaves are comparatively large, in contrast to the inflorescence parts.
All the best,
Andreas
PS: I am sure Paulo will post more photos of the new species soon, especially of G. nebulicola, which I haven't seen alive personally yet.....