I read the bog garden section from cover to cover (so to speak), an outdoor bog garden is something that has been on my wish list for quite a few years. Over the last week I put all my newly gathered knowledge into practice. It didn't all go to plan but I got there in the end.
This is the raised, stone bed I was going to use, it is 1.4 meters in diameter.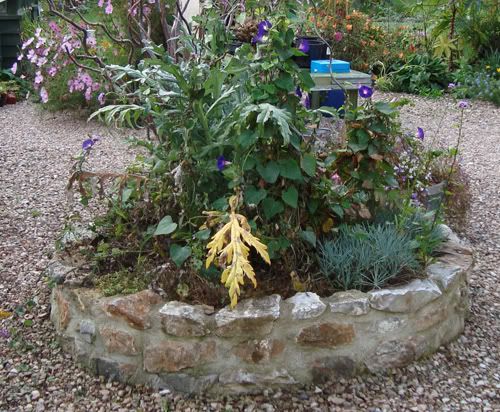 I dug the soil out to a depth of twelve inches (30cm) and a further section in the centre for the water reservoir. I particularly liked the idea of less watering, my small bog needs almost daily watering. This is where I hit hick-up No.1, this was exactly where the electric cable to the garden was buried.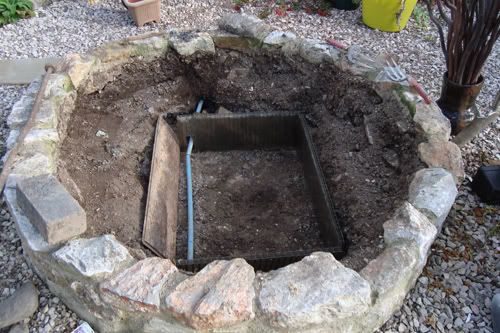 No.2 hick-up was the liner, I needed 2.5m x 2.5m, the smallest I could buy off the roll was 4.5m wide or 4m x 4m ready cut, both were ridiculously expensive and very wasteful. I could have ordered it but patience isn't one of my strong points. Tucked away in the garage was a huge bit of hole free liner, the problem with this was it was old so had become very stiff. It would just take a lot more work.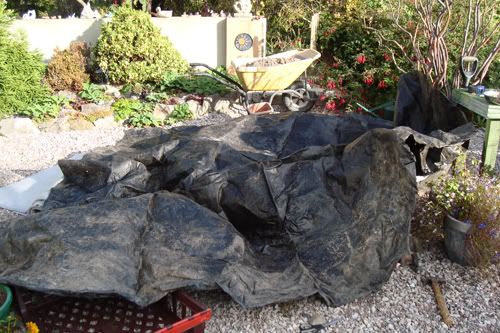 Eventually with a lot of folding and growling I got it to fit. I placed an old bread basket upside down over the reservoir and covered this with capillary matting. I put a pipe in for ease of filling the reservoir.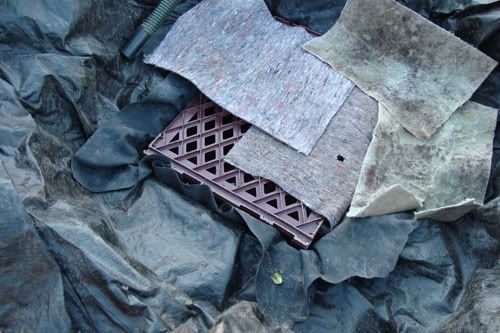 Next came a breathable membrane, this would stop all the peat filling the reservoir but would let water through.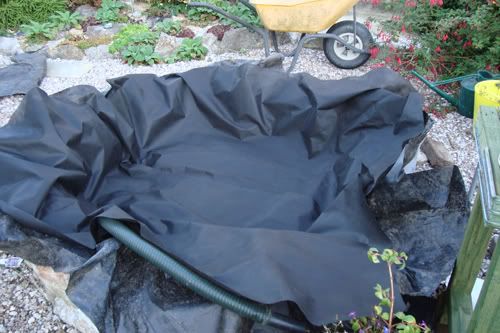 An inch of silica gravel.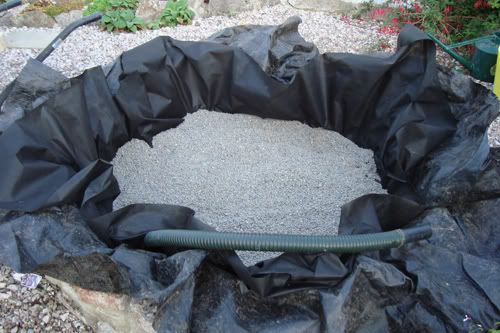 It was topped up with a 50/50 mix of sphagnum moss peat and silica gravel. I trimmed the pond liner down to an inch below the surface, I'm not sure if this will be low enough yet and cut the pipe level with the soil.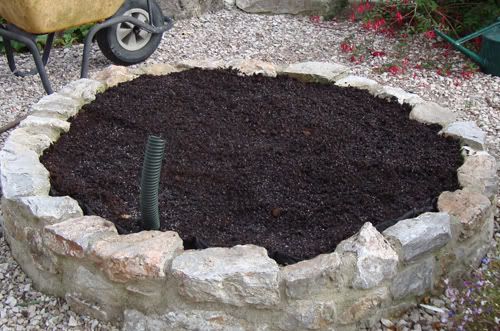 Finally I researched the growing heights of the Sarracenias and planted them according to their height.
I'm not sure about adding moss, it sounds like it can get invasive.
I read it would be beneficial to mulch with pine needles over winter, is this correct? There is a plentiful supply where I walk the dog so it would be easy to do.
This is my first large bog garden, I am hoping I have it right, I welcome any comments good or bad. I would much rather remedy a problem now than wait for it to turn into a disaster later.