Here is an update on some of my coffee fed Nepenthes. These plants were purchased from CZ Plants in May of 2008. They were all potted up into five inch diameter plastic pots, and were initially grown together in a 16" x 8.25" terrarium. Once the N. rajah outgrew the terrarium it was moved into a terra of its own.
Just to show a progression of these plant's growth since February 2009 up until today, here are some previous shots.
From February 5, 2009. From left to right, N. macrophylla, N. villosa, N. rajah.

May 2, 2009

August 3, 2009 The rajah was moved out and replaced with a smaller villosa in this pic.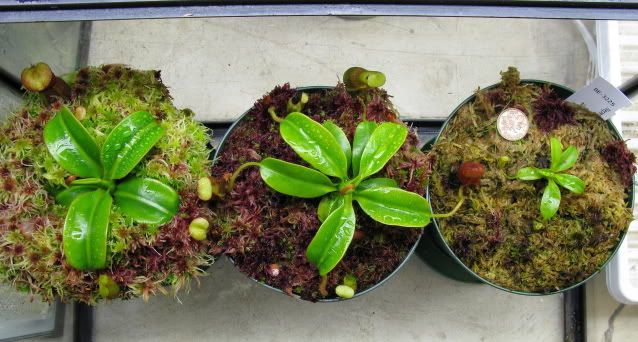 Today I decided to squeeze the rajah back into the terra with the original villosa and macrophylla, just to show how the plants have grown since the last update. All of these plants have been given two or three coffee feedings since I first began the coffee treatments in Feb, 2009.
Today, April 16, 2010 From left to right, N. villosa, N. rajah, N. macrophylla.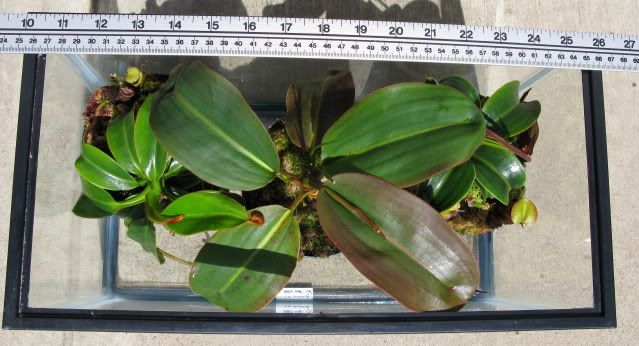 And because the rajah covered up some of the villosa and macrophylla in the terra shot, here are the plants spread out together on our sidewalk. Left to right, N. macrophylla, N. rajah, N. villosa.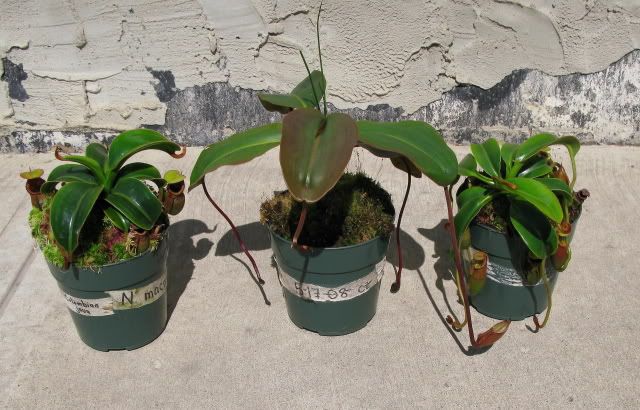 Although a commercial fertilizing program might very well have sped up the growth of these plants, i am happy with their overall health, and general appearance. Coffee does seem to be quite safe for use as a starter fertilizer. And it looks like I'll be repotting these plants in the next couple months or so.
dvg